Excel unlock protected sheet vba. How to Unprotect Excel WorkSheet with or without Password 2019-03-31
excel unlock protected sheet vba
Sunday, March 31, 2019 5:00:04 AM
Chuck
excel vba
Hence, there can be situations that passwords are lost or forgotten by any means. So this method is not recommended when you can already use method 1 which can give you a guaranteed result. So read the methods patiently and then evaluate which one will be the best for you. Wanna buy Coffee for me? First, you need to download this program and install it on a computer, which stored with your locked Excel files. The protection of key worksheets and information within in an Excel workbook can be very important to ensure the data integrity of a spreadsheet. After that, choose the cell A1 and hold Shift + Ctrl + End key to choose all cells containing content in the worksheet 3. You need only WinZip to unprotect Excel sheet which is protected with a password.
Next
Unprotect Worksheet Method VBA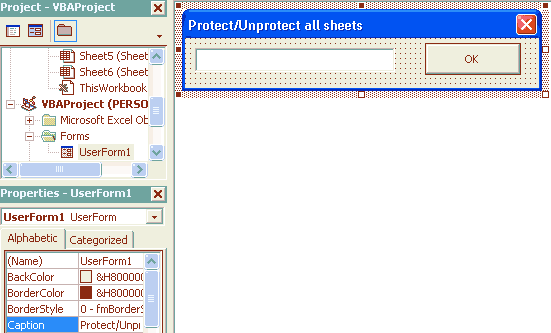 The step by step guideline and helpful information will allow you to become an expert at this issue and solve your problem anytime it occurs. In addition, if there are any external links in the Excel sheet, you have to rebuild all of them. I've added the code from Smitty, which works fine for unprotecting the template so I can paste, and then protects it. The problem is that when it protects it, the parameters are such that you can select locked and unlocked cells. In this method, you are going to know about that amazing software that is an all-in-one password reset toolkit that will help you to recover lost or forgotten passwords for Windows, files and iTunes backup. This entry was posted in by How to Unprotect an Excel Spreadsheet if you have lost your password. I needed the info badly.
Next
VBA Code to Crack Password Protected Excel Workbook
Unprotect Excel WorkSheet Password with Password It will be extremely easy to unprotect Excel worksheet protection if you've already known the correct password. To do the same, hit Ctrl + N key and new blank sheet will open 5. Please try my code: Sub UnlockCells Sheet1. If forgot the Excel opening password, go to. Unprotect Password expression A variable that represents a object.
Next
shiptoshoresupply.comect method (Excel)
Now press F5 or click on the Run button and wait for few moments. Get program install and run on computer. See the Workbook Modules section from if you're unsure how to do this sorry that the page looks a bit crappy but I'm in the middle of renovating! But, when users keep their important safe and secure they protect it with the help of password. Unprotect Excel Worksheet without password However, if , how to edit the data on the sheet? After that, press Alt + F11 key in order to open Visual Basic Editor. Here are the steps to remove the password from a protected excel workbook.
Next
Protect / unprotect worksheet through vba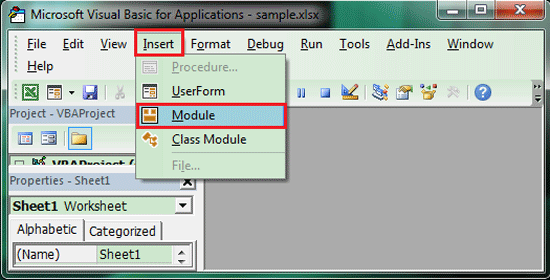 . Then Click Add File button to import your Excel files that are protected by sheet password, you can press Ctrl + A to select multiple files and Dr. In a future post we will demonstrate how Cell Locking works and how you can use it to develop robust spreadsheet solutions. But, this might happen that you are in a situation where you either forget or lost password of protected Excel sheet. How to unprotect a password protected worksheet. Now, the macro will provide you the cracked password that is not actual password but work for sure. In this situation, you may need a professional Excel workbook password unlocker to help you! There is no need to remember this fake password or use it anywhere else.
Next
VBA Code to unprotect worksheets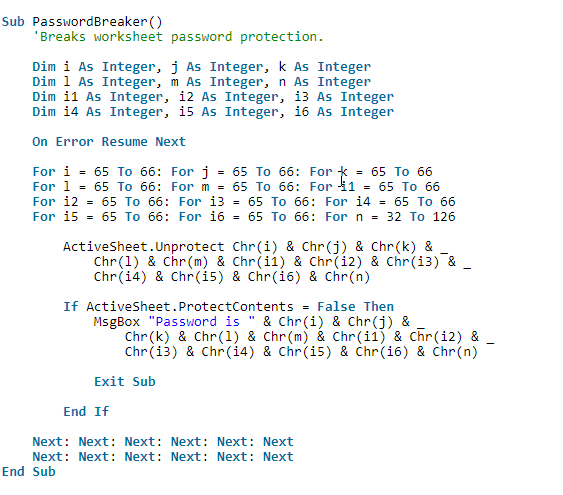 These are — Brute Force Attack, Brute Force with Mask and Dictionary Attack. But the problem starts when you are unable to remember the password and you get locked out of your own excel sheet. When working with macro or code has password protected, if you want to do any changes in the code first you have to unprotect the password at the beginning of the procedure and at the end of the procedure you have to protect it again. If you omit this argument for a workbook that's protected with a password, the method fails. Now, the excel file is unprotected, it won't ask for password anymore the next time you open it. This approach is executed with the help of an algorithm which creates a spreadsheet with a known password and then copies it to the respective fields.
Next
Protect and unprotect worksheet using macros/VBA
The macro will automatically open the cracked password which is usually not the original one but never the less it will work fine. Please revert with your feedback at the earliest. Save my name, email, and website in this browser for the next time I comment. The whole process is very fast! Open the Excel worksheet which is password-protected. First of all, open your Excel file and got to the sheet, which is password protected 2. I attempted to put the EnableSelection parameter on the protect line, but Excel didn't like that. I'm really not an expert when it comes to Excel so you guys are my last straw.
Next
Unprotect an Excel spreadsheet if you have lost your password
Now, you will see a new window where you will be required to paste the following code. Then, right-click on name of the workbook from the left pane. How to Unlock a Locked Excel Sheet 2016 Alternatively? Regards, OssieMac Thank You for your reply. . Even select the cells and ranges. You may not clear that securing Workbook data is a tiered process which offers several levels including the file encryption, editing restrictions and printing restrictions.
Next
How to Unlock an Excel Spreadsheet Password Protected File
Click on Open button to import the Excel file. You should feel giddy at this point because you just realized what you have been missing right under your nose 16. Part 3: Unprotect Excel Worksheet When password protect a Worksheet, you can edit the data on it anymore, unless unprotect it again. Enter the Unprotect Sheet password, and click on Ok. If you have used our post to protect your worksheets then the procedure below can be used without modification to Unprotect all worksheets.
Next
How to unlock insanely well protected VBA Excel sheet
This program could automatically detect all your Excel files which are protected by password and could unprotect sheet password without touching database and structure. Some third-party companies offer programs for unlocking files. But since now you are all locked out of your very own Excel workbook file, you need to do something to uprotect Excel workbook password. After that, run this macro and unlock it. Unfortunately, there is no quick and simple way for your to view or recover a lost password. Note that Public Const goes at the top of a standard module.
Next